Page 3 of 3 •

1, 2, 3

oh and by the way...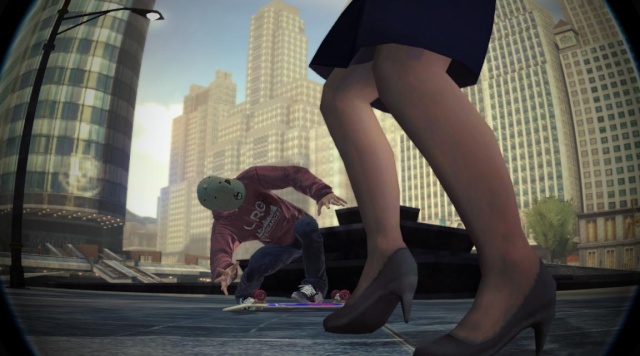 Mamba - Just watched your Full Part rough draft this morning -
I thought is was really well put together - I loved... loved your camera work man..Are you using a Fisheye lens on some of them? 19mm/18mm or so? it looks that way.. I thought all/most the shots were perfect for the trick you were doing.. The only one I saw that did not look right was the blunt(i think) down a ledge at the STACKS where you only saw the wheels coming down, you couldnt see the skater at all or the board really (not sure what time during movie it was)
You had an awesome variety of tricks and the stalls you added in put a little bit of a break between the big bangers(loved that) Also, I liked the music a lot and even the suttle BLACK SCREEN you used on one of the big beats during the montage... nice details there mamba...
Overall - 9/10 fix that 1 camera angle or switch the clip out for another and it is a 10/10 for me man... Man, after watching you and redhook, I went to watch mine and I am bored of it already




Posts

: 322


Join date

: 2009-04-28



Gym...Gs Ad...try this




Posts

: 1239


Join date

: 2009-04-28


Age

: 31


Location

: Rochester



thx for the feedback gym. i took another look at that clip and yea i did get a lot lower with the cam than i remember. it doesn't look that terrible, and i like the look of the sketchy landing, but i'll see if i can find a replacement clip.

wrt the fisheye, i don't think i used anything less than 24 on any of my clips except maybe that switch heel over the fire hydrant. when i'm filming a static cam, on the roll up/away i don't put the skater at the middle of the screen so that way the cam doesn't rotate that much, so i can see how it might seem like a fisheye.



Posts

: 718


Join date

: 2009-04-28


Age

: 31


Location

: Milwaukee



Just getting to watch mamb'a vid with full attention. lol.

Still havent seen/recieved Hook's vid.

Gym, I watch your hype vid 3 times a day lol. awesome.

and Roc, check your PM.



Posts

: 869


Join date

: 2009-04-28


Age

: 33


Location

: washington



mamba, loved your music. Editing went great with it. some serious bangers in this bitch. really nice work man! I cant wait to see this shit in full on high quality.

my fav clipz-
1:21 treflip to manny combo on the bank looked amazing.
2:40 mini heel right into the ledge was so clean and the following clip was pure style.


embers, i just sent you muh vid. Glad to hear you got your pc fixed. i'm fuckin excited to see what you come up with.
thx hook. but yea, when this full drops i'm gonna drop something else. a deuce.



Posts

: 718


Join date

: 2009-04-28


Age

: 31


Location

: Milwaukee



hey guys,

sorry ive been absent. i ended up going out of town saturday to visit some of my girlfriends relatives and just got back yesterday.

=/ got home to find my xbox wont recognize dvd media anymore. it wont recognize games, movies, or anything. Just watched the full length from start to finish though an man that shit was off the chain. Roc i loved your music. jedi mind steadily shine. great job with the ads too guys! ive got to watch this a few more times! will probably hook my laptop up to my tv to watch it in full 42" glory.
ah man hook... that SUCKS!
Hopefully you can get your stuff fixed/replaced...
at least, I hope your trip was good.

The full is bangin! All I have is my 37" right now, and everything looks amazing!!
It's gonna look ridiculous on your 42".... haha



Posts

: 869


Join date

: 2009-04-28


Age

: 33


Location

: washington



Damn this full was bad luck...2 xbox's down in 1 week. i just did a x-clamp mod, but that doesn't sound like your problem. Mine did that after the fix for a little while, wouldn't recognize shit. Turned out it didn't take the firmware update so it wouldn't read anything.

Hope you can get it figured out.



Posts

: 1239


Join date

: 2009-04-28


Age

: 31


Location

: Rochester



Page 3 of 3 •

1, 2, 3


Similar topics
---
Permissions in this forum:
You
cannot
reply to topics in this forum